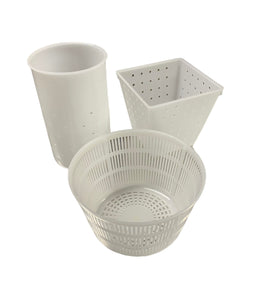 Soft cheese mould kit set of 3 moulds - Beaker mould, Pyramid mould & Ricotta mould
The essential mould collection for the home cheesemaker providing great value.
3 x cheesemaking moulds for the production of SOFT CHEESES.
Beaker Mould (mould 5) - 

This one is cylindrical but tapered: it measures 63mm inside diameter at the base and 69mm at the top, with a height of 120mm. This is an economical starter mould, ideal for many types of soft and semi-soft cheeses. 

Pyramid Square Mould (mould 11) - This particular one is known as a Valençay mould with its truncated pyramidal shape. Valençay is an unpasteurized goats milk cheese weighing around 225g and around 7cm  in height. Its rustic blue-grey colour is made by the natural moulds that form its rind, darkened with a dusting of charcoal. Size is 85mm x 57mm 80mm.

Small Ricotta Mould (mould 18) - 

This is our small size Ricotta basket mould measuring 65mm at the base, 80mm at the top and 110mm tall.  

This mould has large slits to allow rapid drainage needed for Ricotta production.
All our mould are manufactured from special 'Dairythene' plastic for easy sterilisation.
---
We Also Recommend