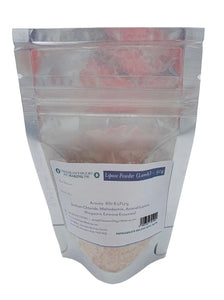 Lipase - Lamb
Available in hermetically sealed packs of Lipase Enzyme - this is our lamb variety.
This adds a mild flavour - less "picante" than the calf or kid Lipase. You would use it typically for the production of Grana, Pecorino
and similar Italian cheeses. It is also used for the production of Manchego and other Spanish cheeses. It can also used to flavour Feta and Greek type cheeses.
Adding Lipase helps rebuild protein strength during cheese production and is considered a vital ingredient for every serious cheesemaker.
This product is a lamb Lipase powder and is available in larger sizes too - please enquire.
We also sell Lipase in 'Calf', 'Goat' and 'Mixed animal' varieties. The Mixed is a combination of the three - a common practice with commercial cheesemakers.
Dosage: 1 ⁄ 4 of a teaspoon per 2 gallons of milk (but of course dosage will be dependent on taste preferences).
Add directly to milk at the same time as the culture and before adding rennet.
Ingredients: Sodium Chloride, Maltodextrin, Animal Lipase (Pregastric Esterase Enzymes).
Activity: 80 ± 6 LFU/g
Storage: Refrigerate at 10ºC (50ºF)
GMO Status:
This Lipase does not come from genetically modified organisms in compliance with European directives (EU) 1829/2003 and 1830/2003 of European Parliament and the
Council of September 22, 2003. All information is correct to the best of our knowledge. For intended use only.
Allergens List for Lamb Lipase
| | | |
| --- | --- | --- |
| Allergen  | Yes | No |
| Cereals Containing Gluten | | X |
| Eggs | | X |
| Fish | | X |
| Peanuts | | X |
| Soybeans | | X |
| Milk (Including Lactose) | | X |
| Nuts | | X |
| Celery | | X |
| Mustard | | X |
| Sesame | | X |
| Sulphur Dioxide and Sulphites (10mg / kg) | | X |
| Crustaceans And Shellfish | | X |
| Molluscs | | X |
| Lupins | | X |
---
We Also Recommend