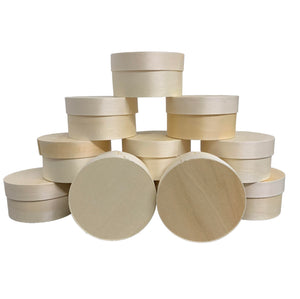 Cheese Boxes Wooden - Medium Size
Manufactured from the finest poplar, these medium size boxes are available plain, ready for own-name labelling and will enable the cheesemaker to give the ultimate presentation to their products.
They are also ideally suited to the packaging of high quality chocolates and have proved popular with various other applications including the presentation of soaps, cosmetics, toiletries and even jewellery.
Special Kraft paper to line these boxes is available in packs of 100 sheet, or if you are packing softer, more 'liquid' cheeses, use our brie wrap.
These boxes are presented in packs of 12 or in bulk packs of 120 or 240. The dimensions of the cheese boxes are: 91mm diameter x 51mm height.
We have a smaller box available too, that measures 69mm diameter x 50mm height and a larger box that measures 121mm diameter x 55mm height.
---
We Also Recommend