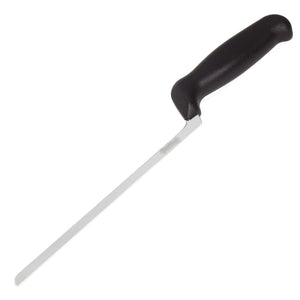 Narrow Soft Cheese Knife
Cheese knife with a narrow stepped blade.  Used to cut semi soft, soft and very soft cheese such as Gorgonzola and Taleggio. 
The narrow shape of the blade helps avoid the cheese sticking to the knife during cutting.  Furthermore the blade, set in a lower position compared to the handle which helps to avoid touching the work surface with your hand whilst cutting and allows to complete the cut without impediments.  The blade is 200mm long.

CARE PLEASE - THE BLADE IS VERY SHARP!
Please note, that due to a change in the law you must be over 18 years of age to purchase this item (U.K customers) and will be required to show proof of age to the courier upon delivery.
---
We Also Recommend