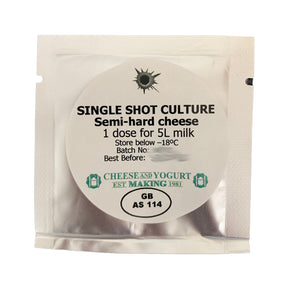 Single shot culture for Semi-hard cheese
This single-shot culture for semi-hard cheese is fantastic value for those wishing to make a smaller batch of cheese. 
Each sachet contains the same bacteria as Meso 2 and is carefully selected for the optimum production of Cheddar, Colby, Brick, Brie, Camembert, Jack, Stilton, Blue and Feta cheeses.

Use 1 sachet per 5 Litres of milk (1 gallon).
Handling: Allow powder to come to room temperature prior to use. Add directly to the milk and stir in well. Works with cows, goats, buffalo or sheep milk.
This freeze-dried culture contains a selected bacteria (Lactococcus lactis subsp. cremoris), to ensure consistent results when cheesemaking.
Culture characteristics: optimum operating temperature - normal room temperatures (25 - 35ºC).
Store unopened sachets in the fridge at between 4 - 7ºC (storage life 12 months) or frozen at -20ºC (storage life 18 months).
Certification: Non-GMO, BSE/TSE free, Food grade, Halal, Kosher.
GMO Status:
This culture does not come from genetically modified organisms in compliance with European directives (EU) 1829/2003 and 1830/2003 of European Parliament and the
Council of September 22, 2003. All information is correct to the best of our knowledge. For intended use only.
Allergens List for Semi-Hard Culture
| | | |
| --- | --- | --- |
| Allergen  | Yes | No |
| Cereals Containing Gluten | | X |
| Eggs | | X |
| Fish | | X |
| Peanuts | | X |
| Soybeans | | X |
| Milk (Including Lactose) | X | |
| Nuts | | X |
| Celery | | X |
| Mustard | | X |
| Sesame | | X |
| Sulphur Dioxide and Sulphites (10mg / kg) | | X |
| Crustaceans And Shellfish | | X |
| Molluscs | | X |
| Lupins | | X |
---
We Also Recommend