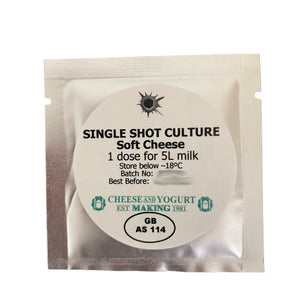 Single shot culture for soft cheese
This single-shot culture for soft cheese is fantastic value for those wishing to make a smaller batch of cheese. 
This sachet contains the same Meso Aroma B bacteria carefully selected for the optimum production of soft cheese, cottage cheese, sour cream, goat cheese, cultured butter, fermented buttermilk or fresh cheeses in general.

Use 1 sachet per 5 Litres of milk (1 gallon). 
Handling: Allow powder to come to room temperature prior to use. Add directly to the milk, butter or buttermilk and stir in well. Works with cows, goats, buffalo or sheep milk.
This freeze-dried culture contains a blend of 4 selected bacteria to ensure consistent results:- Lactococcus lactis subsp. lactis, Lactococcus lactis subsp. cremoris, Lactococcus lactis subsp. diacetylactis and Leuconostoc mesenteroides.
Culture characteristics: Optimum operating temperature - normal room temperatures (20 - 25ºC).
Store unopened sachets in the fridge at between 4 - 7ºC (storage life 12 months) or frozen at -20ºC (storage life 18 months).
Certification: Non-GMO, BSE/TSE free, Food grade, Halal, Kosher.
GMO Status:
This culture does not come from genetically modified organisms in compliance with European directives (EU) 1829/2003 and 1830/2003 of European Parliament and the
Council of September 22, 2003. All information is correct to the best of our knowledge. For intended use only.
Allergens List for Semi-Soft Culture
| | | |
| --- | --- | --- |
| Allergen  | Yes | No |
| Cereals Containing Gluten | | X |
| Eggs | | X |
| Fish | | X |
| Peanuts | | X |
| Soybeans | | X |
| Milk (Including Lactose) | X | |
| Nuts | | X |
| Celery | | X |
| Mustard | | X |
| Sesame | | X |
| Sulphur Dioxide and Sulphites (10mg / kg) | | X |
| Crustaceans And Shellfish | | X |
| Molluscs | | X |
| Lupins | | X |
---
We Also Recommend