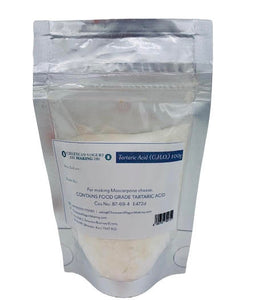 Tartaric Acid
Tartaric Acid for food use (E472d). This is used primarily to make Mascarpone, a cream based soft Italian cheese. 

It is packed in an easy-to-use 100g resealable pouch.
Tartaric Acid can also be used in winemaking to improve the flavour of the wine and increase acidity (i.e. lower the pH levels).
See below for our Mascarpone cheese recipe:-
---
We Also Recommend