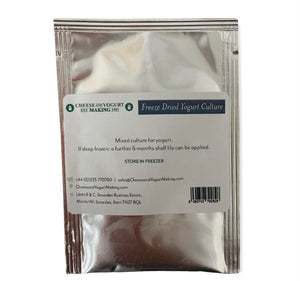 Yogurt Culture Standard
Produces UP TO 33 BATCHES from just ONE SACHET!
Our yogurt culture brand produces a yogurt starter solution - MASSIVELY INCREASING YOUR YOGURT YIELDS!
Superior consistency and viscosity, thanks to NOT being a mono-culture product.
Our yogurt culture contains both lactobacillus bulgaricus and streptococcus thermophilus, making incredibly reliable yogurt every time and creating the perfect gel structure - producing the rich, creamy consistency.
This freeze-dried starter culture is of excellent and consistent quality and with care should provide delicious yogurt, time after time. It is not a monoculture, but a carefully balanced blend of lactobacillus bulgaricus and streptococcus thermophilus, which has been developed to ensure optimum results.
The culture is supplied as a freeze-dried sachet which is simply stirred into 1 litre of fresh milk and then incubated by keeping at 42 - 44°C (108 - 111°F) for 6 - 8 hours to produce the starter solution. This starter solution, when produced as above, should be stored in a suitable container and kept tightly covered in the refrigerator. Once prepared, the solution should not be frozen but simply kept refrigerated at all times - note that this is different to our cheese starter cultures, where the prepared starter solution is not affected by freezing.
The unopened yogurt starter sachets may be stored in the freezer and this will also extend their shelf life indefinitely.
For the actual yogurt production, the best method is to use pasteurized or sterilized milk, or if using raw milk then heat first to 95°C (200°F) to kill off any unwanted bacteria and then cool. With the milk at 42 - 44°C (108 - 111°F) add about 3% of the starter solution - i.e. 1 fl oz, 30 mls (or 2 tablespoonfuls) per litre, stir and incubate at this temperature for 6 - 8 hours to produce thick creamy yogurt. After incubation, stir in whatever fruit or flavourings are desired and pour into suitable containers and refrigerate. Please note that the culture is used to start the culturing process and may be different viscosity to the finished yogurt.
For those wishing to make vegan yogurt, please use our vegan culture that is specially designed for this purpose.
See below for instructions on making a starter solution and our yogurt recipe.
Download Yogurt Culture - Standard PDF
GMO Status:
This culture does not come from genetically modified organisms in compliance with European directives (EU) 1829/2003 and 1830/2003 of European Parliament and the
Council of September 22, 2003. All information is correct to the best of our knowledge. For intended use only.
Allergens List for Yogurt Culture
| | | |
| --- | --- | --- |
| Allergen  | Yes | No |
| Cereals Containing Gluten | | X |
| Eggs | | X |
| Fish | | X |
| Peanuts | | X |
| Soybeans | | X |
| Milk (Including Lactose) | X | |
| Nuts | | X |
| Celery | | X |
| Mustard | | X |
| Sesame | | X |
| Sulphur Dioxide and Sulphites (10mg / kg) | | X |
| Crustaceans And Shellfish | | X |
| Molluscs | | X |
| Lupins | | X |
---
We Also Recommend