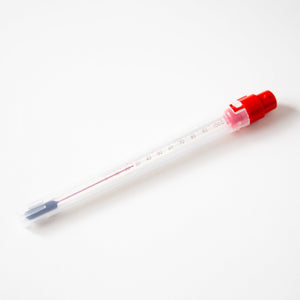 Cheesemaking Dairy Thermometer
This British-made thermometer is free of mercury and is especially useful in food preparation - in particular for cheese and yogurt production.
It is an economical yet robust thermometer, ideal for the kitchen and has measurements in both ºC (Celsius) and ºF (Fahrenheit).
The thermometer is fully protected by being totally surrounded by a heavy-duty plastic case. The case is also fitted with a click-lock top that has a moulded clip on the side: this allows the thermometer to be safely carried by being simply clipped to a breast pocket.
The thermometer is accurate to within 1ºC and should form a vital part of the equipment of any kitchen where cheese, yogurt or other dairy products are made. It has a range of -5ºC to 105ºC and 20ºF to 220ºF and will cover nearly all dairy applications.
---
We Also Recommend