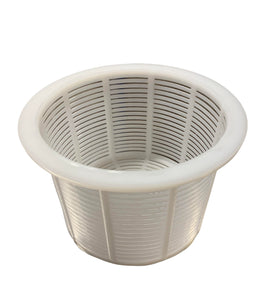 Cheese Mould No.33 - Heavy Duty Basket Mould for Burgos Type Cheese
We supply a range of cheese moulds that are all manufactured from special 'Dairythene' plastic for easy sterilisation.
Each mould is drilled with holes to allow the whey to escape. 
This particular mould is horizontally slatted to allow the whey to quickly escape and is commonly used to make Burgos (also known as Queso de Burgos) type cheeses.
The mould is 135mm diameter, with a height of 100mm and can make 1kg of cheese approx. This mould has a top-skirt for added support.
These heavy-duty basket moulds can also be used to make Ricotta.
Please note - All our cheese moulds are sold and priced individually.
---
We Also Recommend