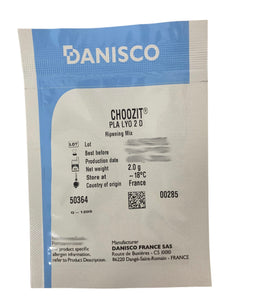 PLA Ripening Mix 2D
Blended culture containing Brevibacterium linens, Arthrobacter nicotianae, Debaryomyces hansenii and Geotrichum candidum. 
Predominately used in the production of washed-rind cheeses such as Gruyère and other mountain style washed-rind types. Also used in Muenster, Brick and Limberger type cheeses. 
This culture is often used as a morge - a combination of culture added to a brine solution, before being used to wash the surface of the cheese.
Store in the freezer at -18°C. 
This culture is a 2 dose culture. Typical usage - 1 does per 1000 litres.
See our information leaflet below:-
Download Cheese Culture - PLA Ripening Mix PDF
GMO Status:
This culture does not come from genetically modified organisms in compliance with European directives (EU) 1829/2003 and 1830/2003 of the European Parliament and the Council of September 22, 2003. All information is correct to the best of our knowledge.
For intended use only.
Allergens List for PLA Ripening Mix 2D:
| | | |
| --- | --- | --- |
| Allergen  | Yes | No |
| Cereals Containing Gluten | | X |
| Eggs | | X |
| Fish | | X |
| Peanuts | | X |
| Soybeans | | X |
| Milk (Including Lactose) | X | |
| Nuts | | X |
| Celery | | X |
| Mustard | | X |
| Sesame | | X |
| Sulphur Dioxide and Sulphites (10mg / kg) | | X |
| Crustaceans And Shellfish | | X |
| Molluscs | | X |
| Lupins | | X |
---
We Also Recommend