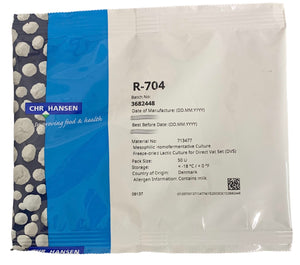 Cheese Culture - R704 for Cheddar and other closed-texture cheeses
A mesophilic, homofermentative, direct vat culture (DVI), primarily used in the manufacture of Cheddar, Feta, Cottage cheese and other closed-texture cheese types.
Each sachet contains 50 Units, enough to inoculate up to 500 litres (110 gallons) of fresh milk. This culture provides fast lactic acid production and high phage robustness without any CO2 production.
Description: Mesophilic freeze dried (FD) culture, comprising of Lactococcus lactis subsp. cremoris and Lactococcus lactis subsp. lactis.
Storage: Keep deep frozen at -18°C
Please note that this lactic acid culture has a dietary status of Kosher (Dairy Excl. Passover) and is Halal certified.

See our information leaflet below:-
Download Cheese Culture - R-704 PDF
GMO Status:
This culture does not come from genetically modified organisms in compliance with European directives (EU) 1829/2003 and 1830/2003 of European Parliament and the
Council of September 22, 2003. All information is correct to the best of our knowledge. For intended use only.
Allergens List for R-704
| | | |
| --- | --- | --- |
| Allergen  | Yes | No |
| Cereals Containing Gluten | | X |
| Eggs | | X |
| Fish | | X |
| Peanuts | | X |
| Soybeans | | X |
| Milk (Including Lactose) | X | |
| Nuts | | X |
| Celery | | X |
| Mustard | | X |
| Sesame | | X |
| Sulphur Dioxide and Sulphites (10mg / kg) | | X |
| Crustaceans And Shellfish | | X |
| Molluscs | | X |
| Lupins | | X |
---
We Also Recommend