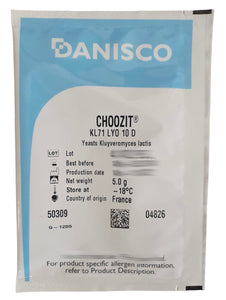 Cheese Culture - KL 71 Klyveromyces lactis, yeast for deacidification
Yeasts for deacidification in cheese making and aroma developing. The culture is a freeze-dried powder.
This culture contains Kluyveromyces lactis. Kluyveromyces lactis is a synonym of Kluyveromyces marxianus var. lactis. This yeast is found in many traditional raw bloomy, smeared, and washed-rind cheeses. It is a rapid de-acidifier with aromatic gas and small eye (hole) formation. KL71 is compatible with other desirable flora during cheesemaking. 
This culture is a 10 Dose sachet. 2 doses is enough to inoculate 1000 litres of milk. Store at -18°C.
GMO Status:
This culture does not come from genetically modified organisms in compliance with European directives (EU) 1829/2003 and 1830/2003 of European Parliament and the
Council of September 22, 2003. All information is correct to the best of our knowledge. For intended use only.
Allergens List for KL 71
| | | |
| --- | --- | --- |
| Allergen  | Yes | No |
| Cereals Containing Gluten | | X |
| Eggs | | X |
| Fish | | X |
| Peanuts | | X |
| Soybeans | | X |
| Milk (Including Lactose) | | X |
| Nuts | | X |
| Celery | | X |
| Mustard | | X |
| Sesame | | X |
| Sulphur Dioxide and Sulphites (10mg / kg) | | X |
| Crustaceans And Shellfish | | X |
| Molluscs | | X |
| Lupins | | X |
---
We Also Recommend