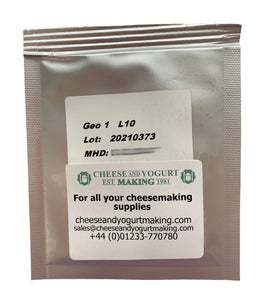 Geotrichum Candidum for Brie & Camembert
Geotrichum Candidum. Recommended for BRIE AND CAMEMBERT. Use for up to 250 litres.
A key agent in the ripening of cheese, Geotrichum implants very rapidly on the cheese surface (first) and has a synergistic effect on the implantation (with the yeasts) of Penicillium Candidum.
USE IN CONJUNCTION WITH PENICILLIUM CANDIDUM- TO REDUCE CHEESE RIND INCREASE DOSAGE OF GEOTRICHUM WHILST DECREASING PENICILLIUM CANDIDUM.
Use of this culture reduces foreign mould growth and adjusts pH to improve white mould growth.
DIRECTIONS:
Incorporation in the milk accelerates the activity of the Geotrichum. Culture can be inoculated directly into milk. Freeze-dried Geotrichum must be re-activated (16 hours at +4 degrees C/39 degrees F) before use in a spray/mist or in the reserve mix in the ripening room.
Download Geotrichum Candidum instructions here
GMO Status:
This culture does not come from genetically modified organisms in compliance with European directives (EU) 1829/2003 and 1830/2003 of European Parliament and the
Council of September 22, 2003. All information is correct to the best of our knowledge. For intended use only.
Allergens List for Geotrichum Candidum
| | | |
| --- | --- | --- |
| Allergen  | Yes | No |
| Cereals Containing Gluten | | X |
| Eggs | | X |
| Fish | | X |
| Peanuts | | X |
| Soybeans | | X |
| Milk (Including Lactose) | X | |
| Nuts | | X |
| Celery | | X |
| Mustard | | X |
| Sesame | | X |
| Sulphur Dioxide and Sulphites (10mg / kg) | | X |
| Crustaceans And Shellfish | | X |
| Molluscs | | X |
| Lupins | | X |
---
We Also Recommend