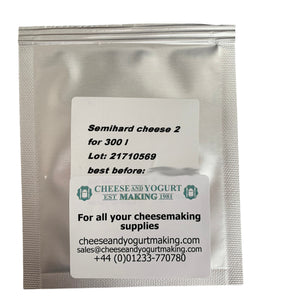 Cheese Culture for semi-hard cheese 2 (Kazu)
This culture includes the strain Lactobacillus helviticus for a slightly nutty flavour in aged cheeses such as Gouda, Aisago and Cheddar.
USAGE LEVELS: 1 sachet - enough to inoculate up to 300 litres of milk.
For smaller batches use 1/8 tsp for 5 litre.
COMPOSITION: Lactococcus lactis subsp. lactis, Lactococcus lactis subsp. cremoris, Lactococcus lactis subsp. lactis biovar. diacetylactis, Lactobacillus helveticus.
Please note that this lactic acid culture has a dietary status of Kosher OU (Pareve) and is Halal AHA certified.
See our information leaflet below:-
Download Cheese Culture - Semi Hard Cheese 2 PDF
GMO Status:
This culture does not come from genetically modified organisms in compliance with European directives (EU) 1829/2003 and 1830/2003 of European Parliament and the
Council of September 22, 2003. All information is correct to the best of our knowledge. For intended use only.
Allergens List for Semi Hard 2 Culture (Kazu)

| | | |
| --- | --- | --- |
| Allergen  | Yes | No |
| Cereals Containing Gluten | | X |
| Eggs | | X |
| Fish | | X |
| Peanuts | | X |
| Soybeans | | X |
| Milk (Including Lactose) | X | |
| Nuts | | X |
| Celery | | X |
| Mustard | | X |
| Sesame | | X |
| Sulphur Dioxide and Sulphites (10mg / kg) | | X |
| Crustaceans And Shellfish | | X |
| Molluscs | | X |
| Lupins | | X |
---
We Also Recommend