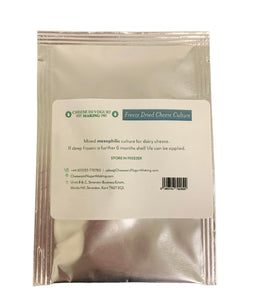 Cheese Culture - Standard Starter Culture
This mesophilic freeze-dried culture comprises of four selected bacteria (Lactococcus lactis subsp. lactis, Lactococcus lactis subsp. cremoris, Lactococcus lactis subsp.lactis biovar. diacetylactis and Leuconostoc mesenteroides subsp. cremoris) to ensure consistent results.
These cheese-making cultures 'ripen' the milk, rendering it acidic and in the correct form for the rennet to do its job - turning milk into curds and whey
The contents of the sachet are simply mixed with milk according to the accompanying instructions to produce one litre of starter solution, which is enough to inoculate over 30 batches of cheese!
See below for instructions on making a starter solution:-
Download Cheese Culture - Standard Starter Culture PDF
GMO Status:
This culture does not come from genetically modified organisms in compliance with European directives (EU) 1829/2003 and 1830/2003 of European Parliament and the
Council of September 22, 2003. All information is correct to the best of our knowledge. For intended use only.
Allergens List for Standard Cheese Starter Culture
| | | |
| --- | --- | --- |
| Allergen  | Yes | No |
| Cereals Containing Gluten | | X |
| Eggs | | X |
| Fish | | X |
| Peanuts | | X |
| Soybeans | | X |
| Milk (Including Lactose) | X | |
| Nuts | | X |
| Celery | | X |
| Mustard | | X |
| Sesame | | X |
| Sulphur Dioxide and Sulphites (10mg / kg) | | X |
| Crustaceans And Shellfish | | X |
| Molluscs | | X |
| Lupins | | X |
---
We Also Recommend