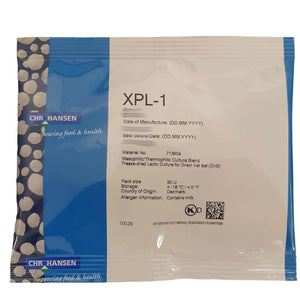 XPL-1 Crème Fraiche & Sour Cream Culture
This culture is used primarily for Crème fraiche, sour cream and Quark type cheeses, though can also be used in yogurts and kefir type products.
The culture is a blend of mesophilic and thermophilic cultures and consists of Lactococcus lactis subsp. cremoris, Lactococcus lactis sups. lactis and Streptococcus thermophilus. 
Store in the freezer.
Remove culture from freezer just before use and add granules directly into the pasteurised product. Stir in gently for 10 minutes.
Each sachet contains enough culture to inoculate up to 500 Litres of milk. For smaller quantities use around 1/8th of a teaspoon per 5 Litres of milk.
GMO Status:
This culture does not come from genetically modified organisms in compliance with European directives (EU) 1829/2003 and 1830/2003 of European Parliament and the
Council of September 22, 2003. All information is correct to the best of our knowledge. For intended use only.
Allergens List for XPL-1
| | | |
| --- | --- | --- |
| Allergen  | Yes | No |
| Cereals Containing Gluten | | X |
| Eggs | | X |
| Fish | | X |
| Peanuts | | X |
| Soybeans | | X |
| Milk (Including Lactose) | X | |
| Nuts | | X |
| Celery | | X |
| Mustard | | X |
| Sesame | | X |
| Sulphur Dioxide and Sulphites (10mg / kg) | | X |
| Crustaceans And Shellfish | | X |
| Molluscs | | X |
| Lupins | | X |
---
We Also Recommend