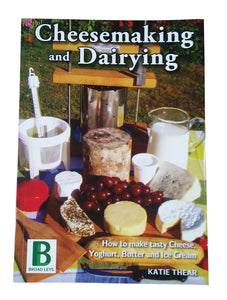 Cheesemaking & Dairying - by Katie Thear
This excellent book by Katie Thear shows you how to make tasty cheeses and yogurts, what equipment and supplies you'll need and is packed with clear, step-by-step instructions for those looking to produce their own dairy products.
Katie Thear was first taught how to make traditional cheese and dairy produce by her mother. She taught Biology and Rural Studies and then acquired technical experience of modern dairy practice at a commercial dairy
With her husband David, she ran a smallholding where she regularly produced a wide range of dairy products. Visits to dairies in Britain, France, Holland and USA have added to her research, making this one of the most comprehensive and practical books available on dairying.
---
We Also Recommend